It's very important to me that you read this first bit in the voice of the person who did the dubbing for Kenji Fukui on OG Iron Chef:
The first draft of Hungry Girls is OVAH!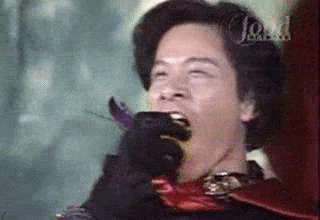 And now back to our regularly scheduled reading.
Anyway, yeah, I completed the first draft of Hungry Girls on November 30, and not even that late in the evening! Which means I could've spent the rest of the night doing homework…but instead I spent the rest of the night celebrating on Twitter.
Completing this draft has been my goal for the year since I started it in July for Camp NaNo, when I wrote 40,000 words instead of the anticipated 20,000. In August I naively thought I might actually finish it so early that I wouldn't have anything to work on for NaNo (lol). B u t my motivation went down with each passing month, until October saw me put off writing in favor of planning the rest of the novel out for November. I wrote, like, one 5-page chapter at the end of October, and that's it, but at least it got me back into a writing headspace so that I was ready to go once November hit.
Shockingly, Hungry Girls actually did come out to about 100,000 words like I planned. It's just under 104,000 words, which I can totally work with. I'll have things to add, but I'll have things to cut, too. And if I got my behemoth of a Chosen-Grandma first draft down from 160,000 words to an eventual 99,000 words, I'm confident I can keep Hungry Girls around 100,000 words in the end.
Unfortunately, the first step to revising is going to be figuring out my magic system.
GrOSs.
How have I made it through 15 years of writing fantasy without ever once having a main character who uses magic? I don't know, but it's been a good way to avoid more than a nod and a wink at a magic system. As a reader I don't require any explanation – you tell me it's magic, and I'll go, "Oh, okay," as long as there aren't any flagrant contradictions in your novel's magic use. So as a writer, I tend to approach magic the same way.
BUT ALAS. Megan, the MC of Hungry Girls, uses magic. Kind of a lot. Which I only realized right at the very end of the novel means I actually need to somewhat figure out how the magic system works. Or at least its most basic rules. Or something.
Still, I'm excited to revise this one. I have some basic ideas already of things that need to happen to it, things I need to figure out or clarify or cut or combine or otherwise Make Better. I've got some basic notes from my alpha readers, plus all their lovely commentary on the horrible first draft that I can reread any time I think "this is shit" and feel ready to give up on the whole thing.
I've got 10 days to complete the remainder of my coursework for this semester, so I have at least that long of a break from the story before I can really let myself lay eyeballs on it again.
Wish me luck. >.<
Do you blog about writing? Join the Insecure Writer's Support Group and become part of the monthly blog hop! Click here for a list of this month's posts. (Powered by Linky Tools.)