Y'all know how much I LOVE AND ADORE National Novel Writing Month with the white-hot passion of a thousand suns, right?
RIGHT.
I can't shut up about it, obviously.
SO. Time for the obligatory Camp NaNo post. The super-exciting thing this year is that I'm actually drafting for a NaNo event for the first time in…uh………………………
Well, it's been a while. I was drafting the Chosen Grandma story during NaNo 2017, but since I wrote it as part of a Last Man Standing-style writing contest, I couldn't give in to the total literary abandon that is my favorite part of NaNo. Before that, I'd spent several years revising a novel about a sentient garden statue and a man who lived in a house of books.
So it's probably been seven or eight years since I actually fast-drafted a story.
But! In late June, I realized that, now that the Chosen Grandma story is Out There in the Wild,  I can draft a new thing.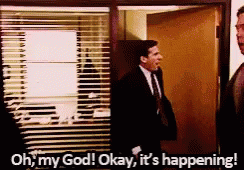 Look. Drafting the Chosen Grandma story over the course of a year and a half, 1500 words at a time (until the lightning round), was a lot of fun. And it was a new way of drafting for me! And I think a lot of great things came out of it! And it was easier to keep up on homework while writing!
BUT. Part of the reason I love NaNoWriMo so much is because I love focusing hard on a story and writing it like it's a race to the finish line. I enjoyed the entire process of drafting the Chosen Grandma story, but my favorite part was the lightning round, especially the last few weeks, with the highest word counts. The week I wrote 30,000 words and completed the first draft was exhausting, but it was exhilarating.
So I'm super excited to be starting a shiny new story the same month as a NaNo event.
Also? DRAFTING, OKAY.
Drafting is 1000% the best part of writing. (YMMV.) The story's all fresh and exciting, and the possibilities are endless, and I'm just like, plot hole who? because I'm a panster and I won't know what plot holes exist until later. Plus the writing can be 100% shit, and who cares? You can fix it in revisions! So I'm out here writing sentences in the most straightforward and ridiculous way possible and being a super overt narrator and using way too much punctuation, just because I can.
My word count goal for the month is 20,000 words on the new story (plus 10,000 words on a more serious side story, but we'll see how that goes). I'm already at 18,000 words, and I am LIVING MY BEST LIFE.
Do you blog about writing? Join the Insecure Writer's Support Group and become part of the monthly blog hop! Click here for a list of this month's posts. (Powered by Linky Tools.)