I've never done a book-blog sort of post before. But I've been catching up on the book blogs I follow lately, and it's making me want to shout about some stuff I read in 2019. Particularly since I read some REALLY GREAT STUFF.
Top Books
THE SUN IS ALSO A STAR, Nicola Yoon (2016)
This book was delightful. Like, look. I know instalove isn't everyone's thing, and quite often it's not my thing. And most YA is written in first-person present, which is my least favorite viewpoint.
BUT. OH. MY. GOSH.
I adored this book. Top read of the year, hands-down. Which I would not have expected. The characters' voices were so distinct, the romance was so sweet, and the book explored topics like immigration and racism. Plus there were interludes in the form of third-person present omniscient "histories" about various side characters, which was probably my favorite thing. I'm a total sucker for learning about side characters and for omniscient narration.
tl;dr This book was sweet and heartbreaking and funny and wonderful and I completely fell in love with it.
THE HATE U GIVE, Angie Thomas (2017)
I'd meant to get around to this book for a while and finally did, and it did not disappoint! Like THE SUN IS ALSO A STAR, this book made me forget it was in first-person present narration because the voice was so strong.
(I'm pretty sure a generic voice is my problem with much first-person present narration. I realize that's really more of an author problem than a viewpoint problem, but I'm biased against the viewpoint like I'm biased against prologues.)
This book deals with some hard topics, like police brutality (specifically the shooting of unarmed black people) and gang violence, but it's also uplifting in many ways. The dynamic between Starr and her family *chef's kiss.* I also loved the detail about her dad keeping roses.
tl;dr I spent a lot of time stressing out over the safety of various characters, but there was also a lot of joy, and the family bonds and friendships were beautiful.
PRIDE: A PRIDE AND PREJUDICE REMIX, Ibi Zoboi (2018)
I was so excited for this book that I almost pre-ordered it back in 2018, but it wasn't a good time for me, since I was trying to get my shit together to go back to school. I love a good Jane Austen retelling, and this was a great one!
I was fascinated by the ways Zoboi morphs the characters, plot lines, and situations so the original story would fit into the lives of black and POC teens living in modern-day New York City. In doing so, she explores issues of gentrification and racism, as well as issues specific to teenagers, like the stress of preparing to go to college.
Plus, this is another book told in first-person narration, so that's three for three on my top-books list.
tl;dr This book is recognizable as an Austen retelling, but Zoboi brings it very much into the present and makes it very much her own in a way that's just fantastic.
Disappointing Books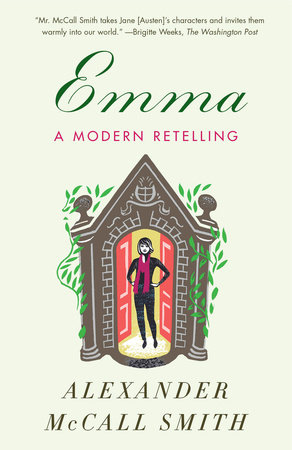 EMMA, Alexander McCall Smith (2015)
Fresh off a reading of PRIDE, I picked this book up at random at Barnes and Noble. Remember how I said PRIDE is clearly a retelling but also Zoboi's own novel?
Yeah, EMMA is not like that.
EMMA is…almost not even a retelling. While Zoboi brings P&P into a new setting and then explores how the same type of story might play out in this new setting, McCall Smith makes his novel bend over backwards to avoid deviating from the original in any way.
Which is, like, really tough, because it's also set in the present.
It didn't feel so much like a retelling as the original novel wrenched out of its context and put in a new one, no other changes made. There were some definitely queer overtones that I thought would be explored later on in the novel, and I was so ready for it, but nothing ever came of it. Alas.
tl;dr The voice was very Austeny, the story was almost completely uninfluenced by the new setting, and this was probably the most disappointing read of the year.
CHILDREN OF BLOOD AND BONE, Tomi Adeyemi (2018)
This one I'd been looking forward to for a while, although I'm at a point in my life where I really want standalone books more than series, so rip me as a fan of fantasy.
This was less disappointing than EMMA. It was interesting to see a fantasy world that was inspired by West Africa rather than Europe. And I honestly loved Zélie as a main character, which is sort of funny, because on GoodReads a common complaint seems to be that people didn't like her. But I did! She was honestly really flawed but also, like, she was aware of how flawed she was and she was trying her best. And I loved her for it.
I kind of wish the story had been a little more Zélie-centric, actually: although it doesn't come up in the blurb, there are two other viewpoint characters. I started off interested in Iman, but I got tired of him pretty quickly.
There's also an enemies-to-lovers romance that didn't work for me at all. I'm not inherently against this trope, but I think it needs to be done carefully – and it was not. If your enemies-to-lovers are enemies because one of them is committing genocide against the other's people and has actively torn apart the other's life…no. It read uncomfortably like a Nazi/Jew romance, despite being placed in a fantasy world.
It also seemed kind of out-of-character for Zélie, because she's not a particularly trusting person and she cares a lot about her people and the tragedy that's happened in her own past. But I guess those teen hormones can really displace a small issue like someone burning down your village???
tl;dr A badly-done enemies-to-lovers romance in a book where the voice isn't super strong. But I might read on, because I did love Zélie, and I'm crossing my fingers for no more icky romances. Haven't decided yet.
Middling Books
LABYRINTH LOST, Zoraida Córdova (2016)
This book sat on my table forever and then I saw it on a list of books with bisexual MCs and decided to move it to the top of my TBR pile (insofar as I actually have one). The bisexual rep was great! I liked a lot of other things about the story, too, but Alex was kind of all over the map for me as a character. That said, I'm still planning to finish this series as it's published. I'm curious to see how Alex develops as the series continues (and I def want more of the good bi rep).
Other Books
I also read two Terry Pratchett books, Equal Rites and Maskerade, at my parents' house over Christmas. Aside from Good Omens, which I never count because it's co-authored, I'd never read any Terry Pratchett before. Even though everyone told me I should. Even though everyone who's read my story and anything by Terry Pratchett has assumed he's an influence. Anyway, I loved them, and I'll definitely be reading more!
Reading Goals for 2020
I was going to just say, "lol 'reading goals'" and leave it at that, because…grad school. I'm taking two programs because I'm a glutton for punishment. I'm also trying to revise the Chosen Grandma story. And I've been writing craft and grammar posts for an editor's blog, and I'm the crew leader for the Resources forums on Young Writers Society, and I'm trying to help both a theater club and a queer group get off the ground at school, and and and…
But I legitimately do love reading. And I'm on Twitter all the time, seeing all these beautiful covers and whatnot.
So I do want to read.
But it's gotta be balanced with, like, a trillion other things.
So I'm going to set these goals for 2020:
read at least 12 fiction books
at least 6 of these will be books published within the last 3 years
That's it. Kind of lame, I know, for such a voracious bookworm as I actually am. But I'm going to be doing a lot of nonfiction, academic reading for classes. And if I don't specify that at least 6 of the books must be published within the last 3 years, I will, predictably, turn back to older books I've read a million times and reread them yet again. So this is the goal I'm setting for myself for now.